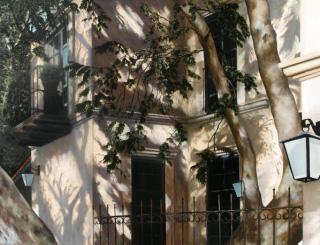 These days Iíve an urgent need to paint - so many stories to tell...
They become very personal to me. Drawn to a setting, a person, a place in history, I am allowed to live the era, visit the ancient streets of Europe or peer into the strategies of the old gold miner in Californiaís mother lode of 1849. While I rough-in a majestic old building, readying it for color, I think about the craftsmen who designed or built each piece. Who inspired it? In the years itís been standing, what has it witnessed? What history was made in this place and whose footsteps have left their mark? I visit the time, the old schoolhouse, listen to the trainís lonesome whistle and wonder who might have been welcomed at the inn. When I am involved in painting nature, there is an intoxicating freshness that consumes me. The lighting that soothes or haunts, the dust that kicks up in a windstorm or morningís rays streaming through the northwest forest. The sprays of action and invigorating scents of Silver Creek Falls are alive, even as I finish the work in my studio.

The adventure begins with the start of each new painting - I am so blessed by this.
Thank you for the chance to share with you,

Nathelle
Nathelle Eloise Norfleet